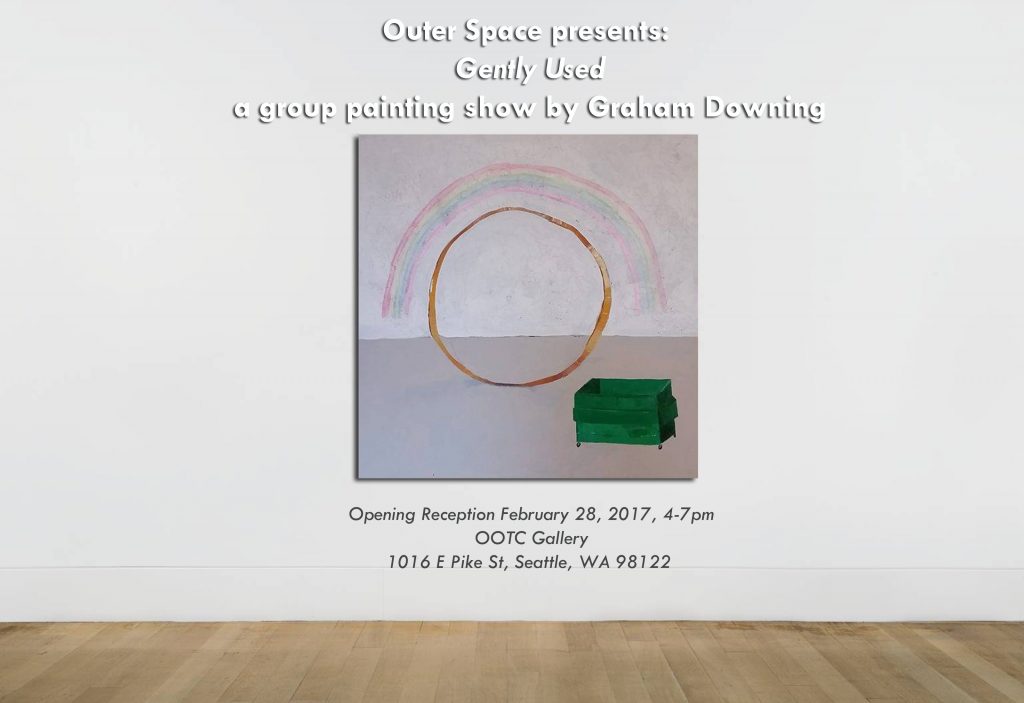 Outer Space presents:
Gently Used
by Graham Downing
February 28, 2017
Out of the Closet
On February 28, 2017, Graham Downing held a group painting how at OOTC Gallery, otherwise known as the frames section in the Out of the Closet thrift store. Graham made 12 paintings and donated them to the store a couple days before the show, letting them be priced and placed as equals with the rest of the store's art. Aside from some minor placement adjustments, no distinction was made between Graham's paintings and the rest of the pieces in the show. Some pieces were sold before the show opened and so are not documented here. The invite read follows:
"Outer Space is proud to present "Gently Used," an exciting group show featuring a new body of paintings by Graham Downing and donated works from local patrons. "Gently Used" explores the value we instill in our artwork, the circumstances in which we are open to perceiving art as such, as well as the increasingly blurry lines that separate meaning from the mundane and the meaningfully mundane. All work will be affordable and available for immediate purchase and removal, so please arrive early.
The opening reception will be held at the new OOTC Gallery on Capitol Hill, Tuesday February 28 from 4pm to 7pm. "Gently Used" will be in the back gallery, past the permanent collection on display in the front of the space . A gallery attendant will be sitting the space from 10am to 7pm for the two weeks following. Refreshments provided. "