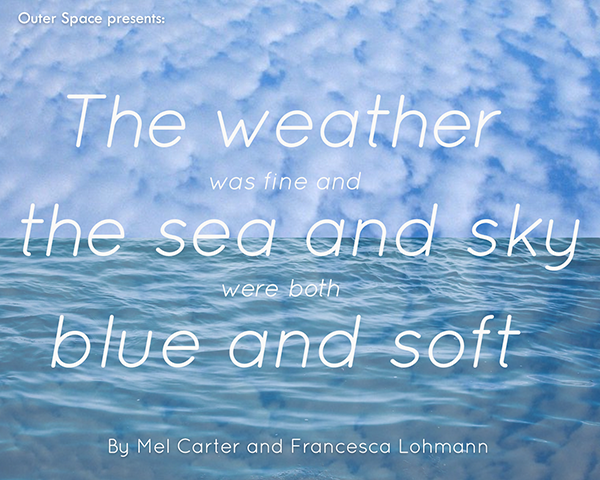 Outer Space presents:
The Weather Was Fine And The Sea And Sky Were Both Blue And Soft
by Mel Carter and Francesca Lohmann
July 21, 2018
MLK Memorial Park
Outer Space starts off the summer by presenting "the weather was fine and the sea and the sky were both blue and soft" by Mel Carter and Francesca Lohmann.
"This work is something in between a window display, a bazaar, a yard sale, a picnic, and a temporary installation. It is an arrangement of things, available for barter and trade, without money as a governing intermediary. An accumulation of loose ideas, stories, similes, interests…
There's intimacy in handheld goods, and in their exchange; To receive something that has been thought about and cared for and likewise to give. A call and response.
Please come in person. Bring something to exchange. Stay for conversation and snacks."
-Mel and Francesca
Mel Carter (b. 1992) grew up in the Bay Area and now lives and works in Seattle. Her work explores relationships between humor, the grotesque, whimsy, and intimacy and care, using comforting materials like food, assortments from dollar stores, and gifted objects, all which are influenced by memories or stories she remembers from childhood.
www.cartermel.com
Francesca Lohmann (b. 1986) grew up in Northern California and has made her home in Seattle since 2009. Her work is concerned with material in time and circumstance, with boundaries, limits, points of contact, and being finite. Lohmann has exhibited at numerous venues in the Pacific NW, and was a finalist for the 2017 Brink Award administered by the Henry Art Gallery. She holds a BFA in Printmaking from the Rhode Island School of Design, and an MFA from Cornell University.
www.francescalohmann.com
Q&A + Pictures: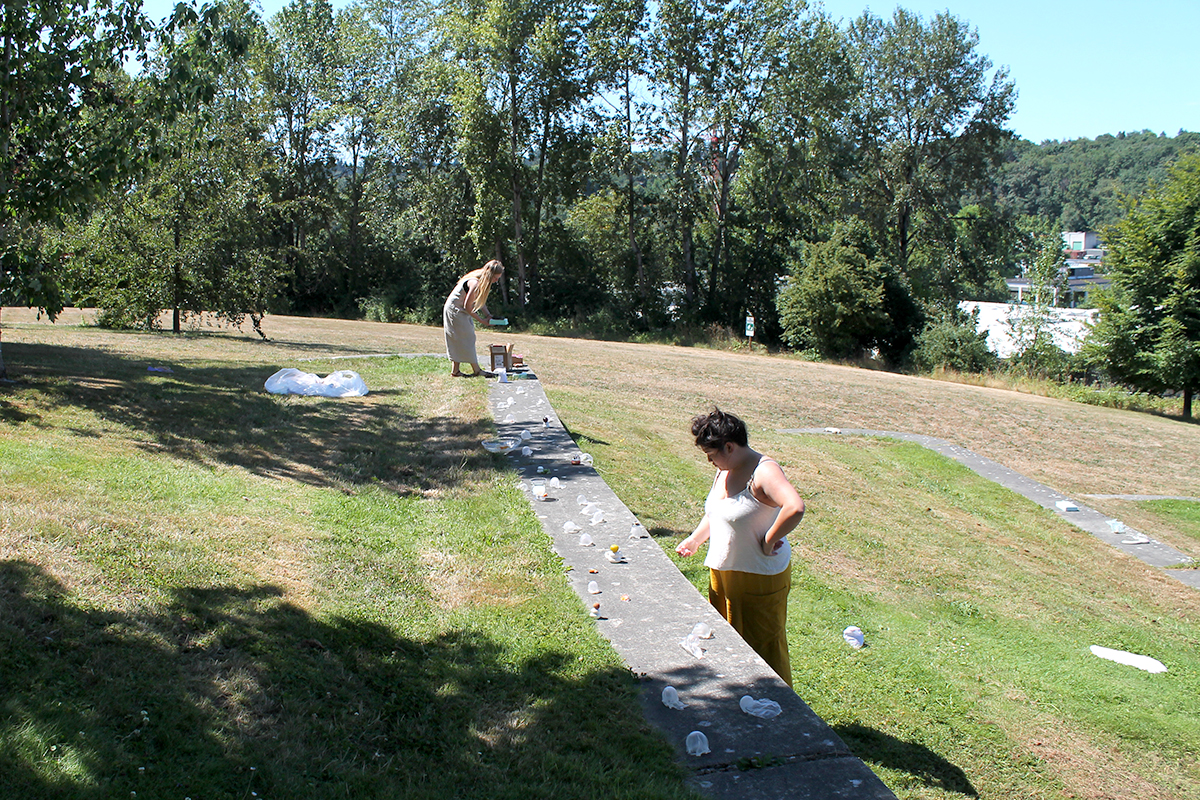 OS: Where did the title come from and how did it relate to your show?
MEL: I love pulling lines from articles, songs, fables etc., and this line comes from The Story of Urashima Taro which is one of my favorite stories and a classic Japanese fable I read growing up. The context is that Urashima Taro, a fisherman, rescues a tortoise that was being cruelly tormented by a group of kids, and he tries to reason with them, and they refuse to stop until he offers to pay them off, which they finally accept currency for this tortoises life. He lets the turtle go back to the sea, and this is the complete passage which paints a perfect picture. "The next morning Urashima went out as usual in his boat. The weather was fine and the sea and sky were both blue and soft in the tender haze of the summer morning. Urashima got into his boat and dreamily pushed out to sea, throwing his line as he did so. He soon passed the other fishing boats and left them behind him till they were lost to sight in the distance, and his boat drifted further and further out upon the blue waters. Somehow, he knew not why, he felt unusually happy that morning; and he could not help wishing that, like the tortoise he set free the day before, he had thousands of years to live instead of his own short span of human life."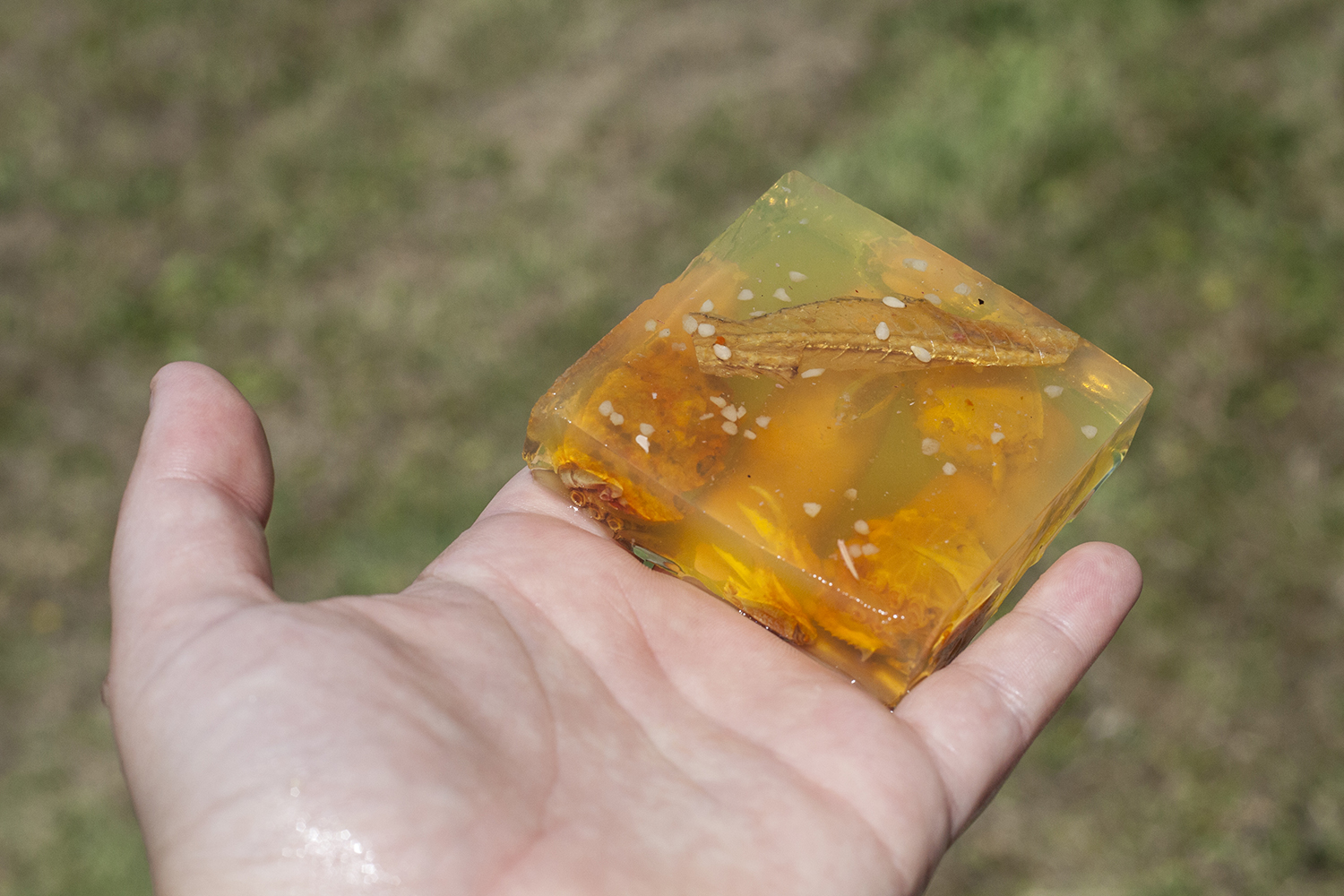 FRANCESCA
:
To me it related directly to summertime, to being outside in open air, and that being an experience of ease and expanse…. I love when it's hot out, and the air feels as warm as your body, and you can imagine that the boundaries aren't really there any more….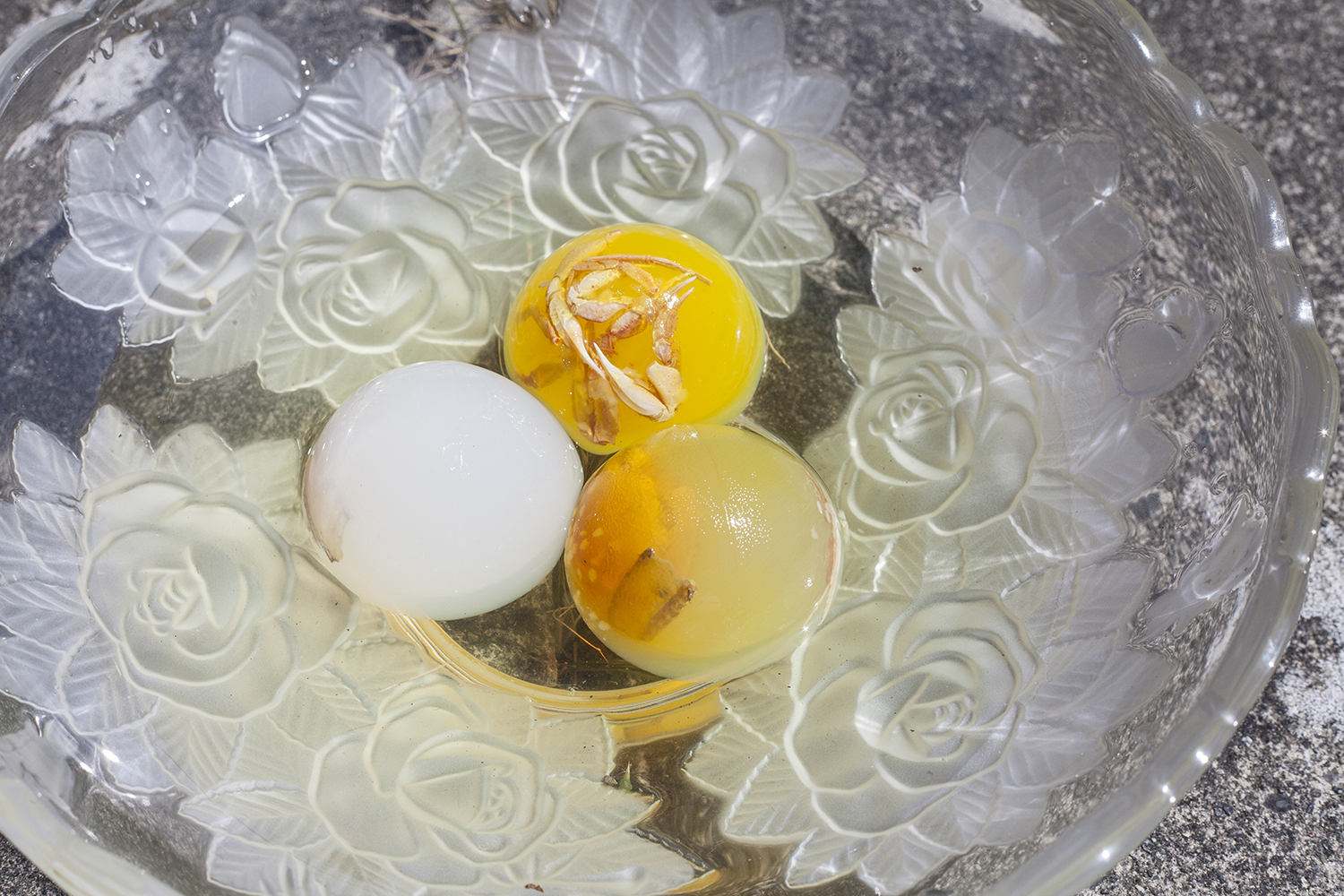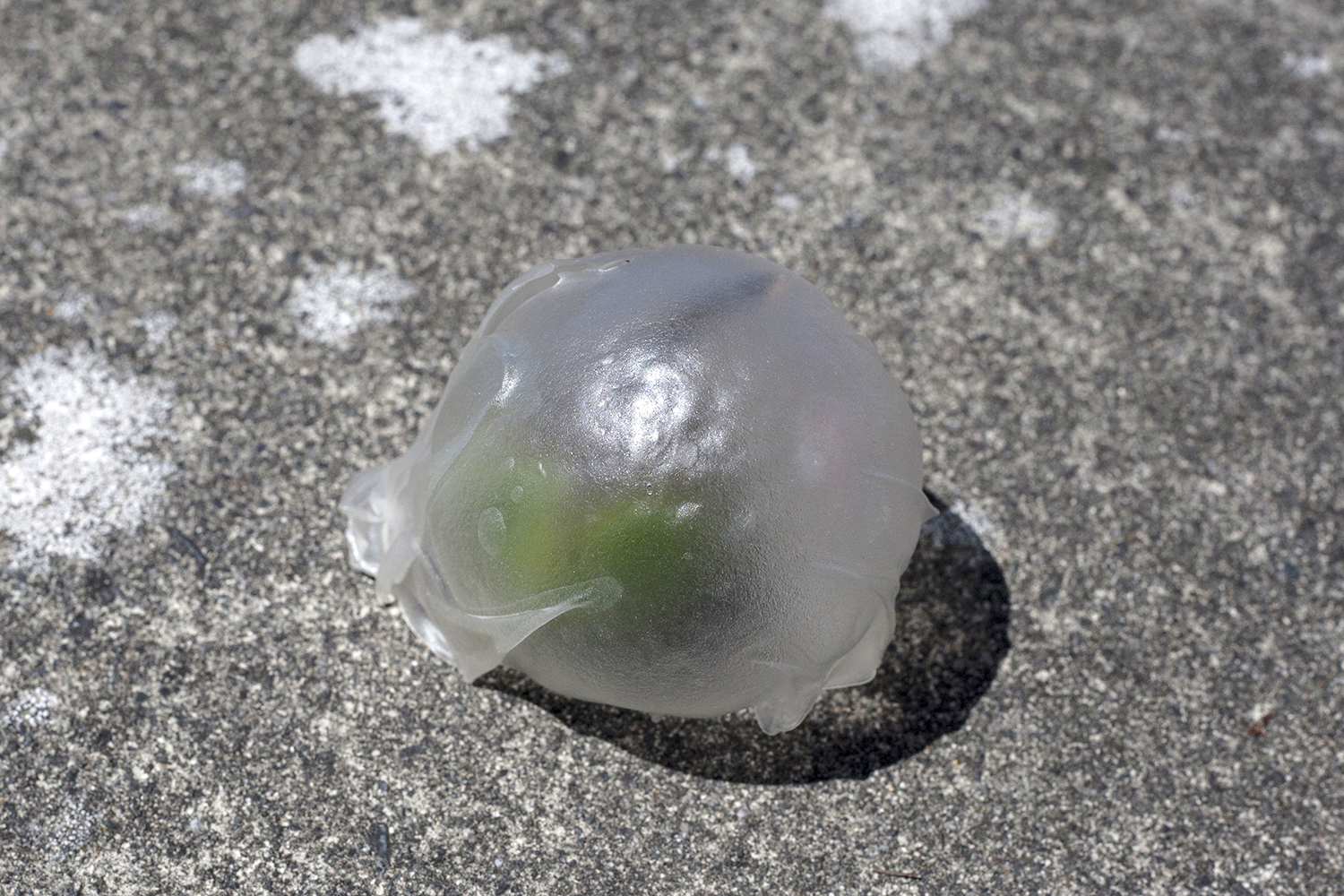 OS: You've both made public artworks before, I'm curious if you notice the context (i.e. outside, on grass and concrete, under the sun, etc.) changing the aesthetics or meaning of your work as opposed to being presented in a more controlled gallery environment, and if so, how?
FRANCESCA
:
The context always affects the work. This was a different kind of exhibition/event then others I've engaged with in the past, so its difficult to compare exactly. It was a more interactive experience.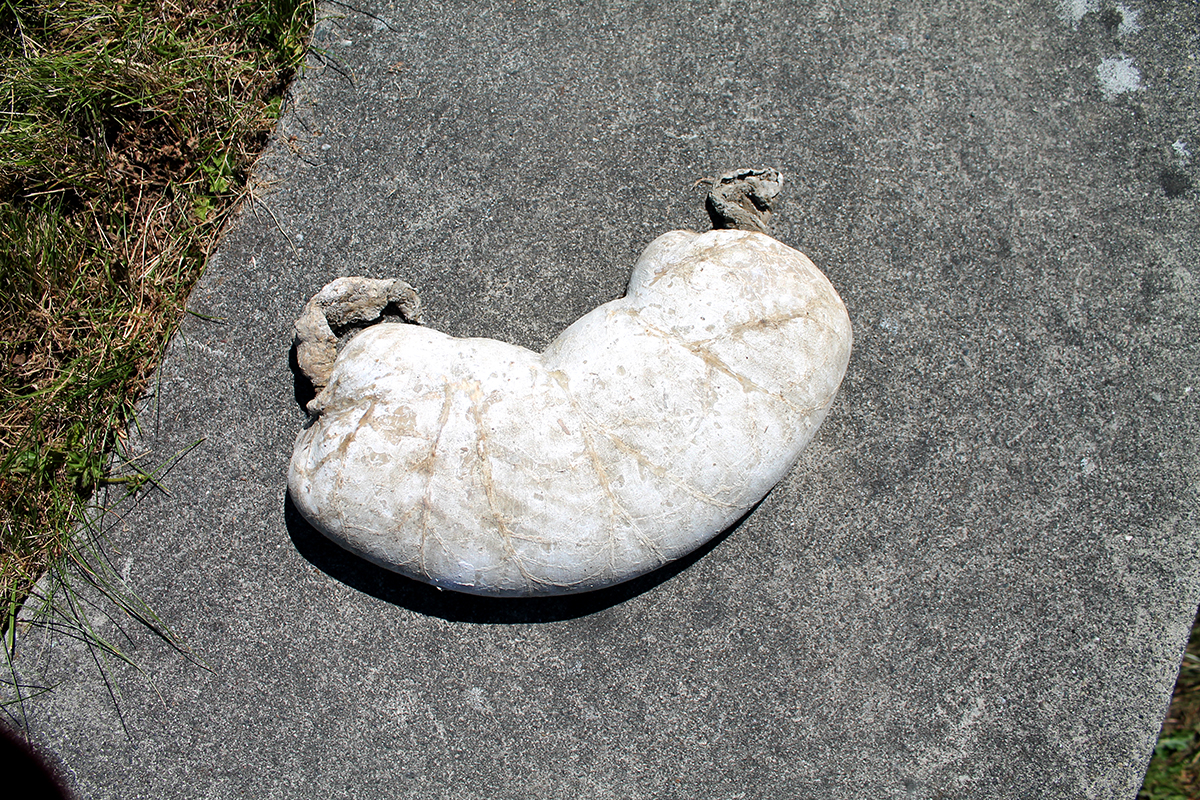 MEL: Art//artworld is still feeling so inaccessible that I'm loving this project that you've taken on as an alternative way to experience art sans white cube. Even when working in/for galleries, I've experienced (~lol still experiencing this~) walking into a formal gallery setting or show where you want to know more about the work or artist, and are met with a half-hearted reply or dismissive vibe from the institution at the expense of the visitor which is unacceptable.
Re: this, I think I'm more interested in seeing the way visitors interact with the work and the value that they would both potentially and actually assign to the pieces (what they bring to barter), and the informal setting like we did here make for a more playful and curious environment.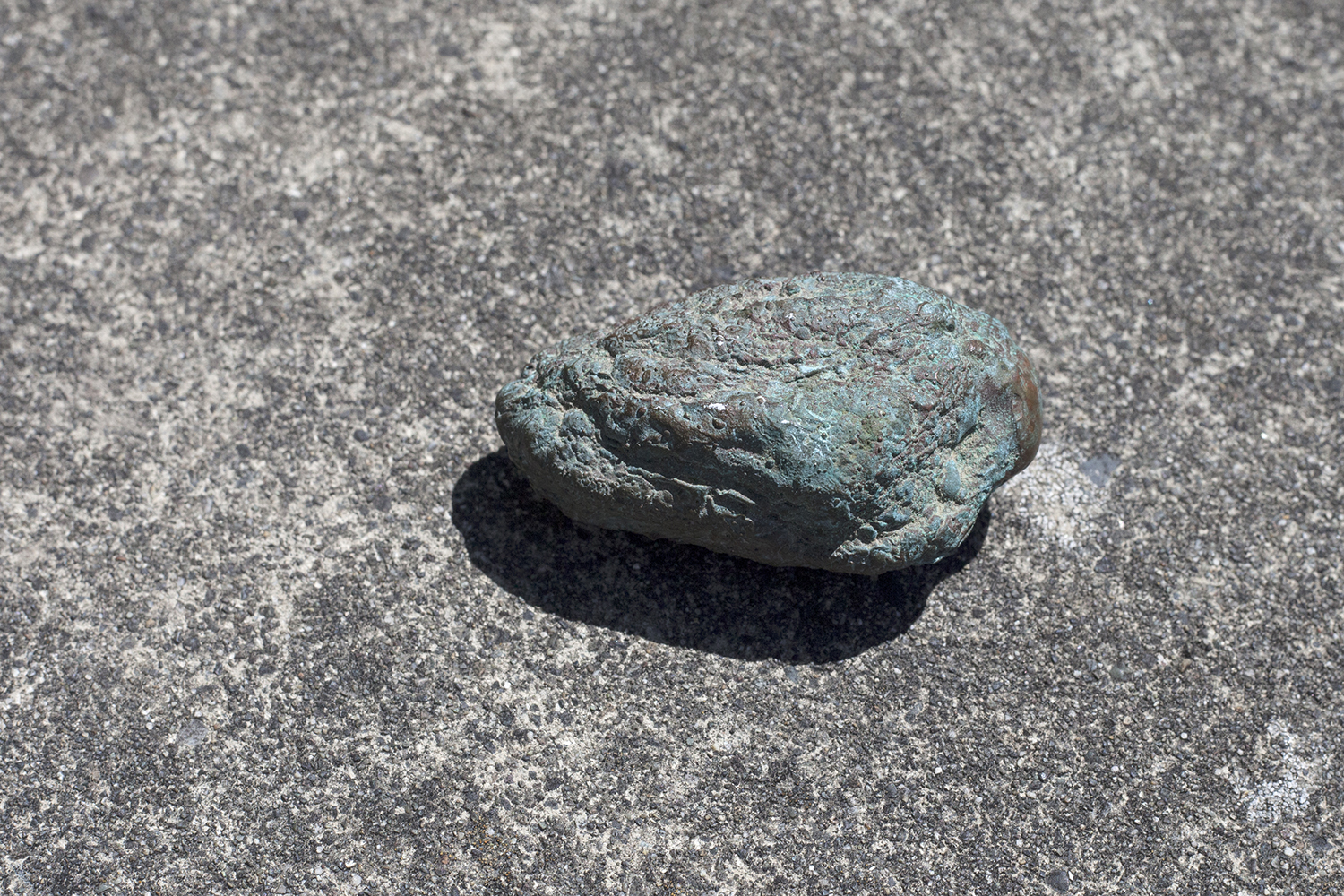 OS: You both used food a lot in your work for this piece–Mel's spring roll wrapper sculptures, crab snack balls, and seaweed; Francesca's taffy, bronzed potatoes, and sausages–could you talk a little bit about your use of food as an art object in general and how you both decided to use it in this piece?
MEL: I think both Francesca and I had talked about using food as it's been a part of both of our practices. I use food in almost every piece I work on because it's how I've connected to family, culture, friends, and there's such good kid humor in food. If you've ever left rotting fish in your fridge for weeks to see what's happening with it, it's a pretty fun activity, albeit sad for your roommates.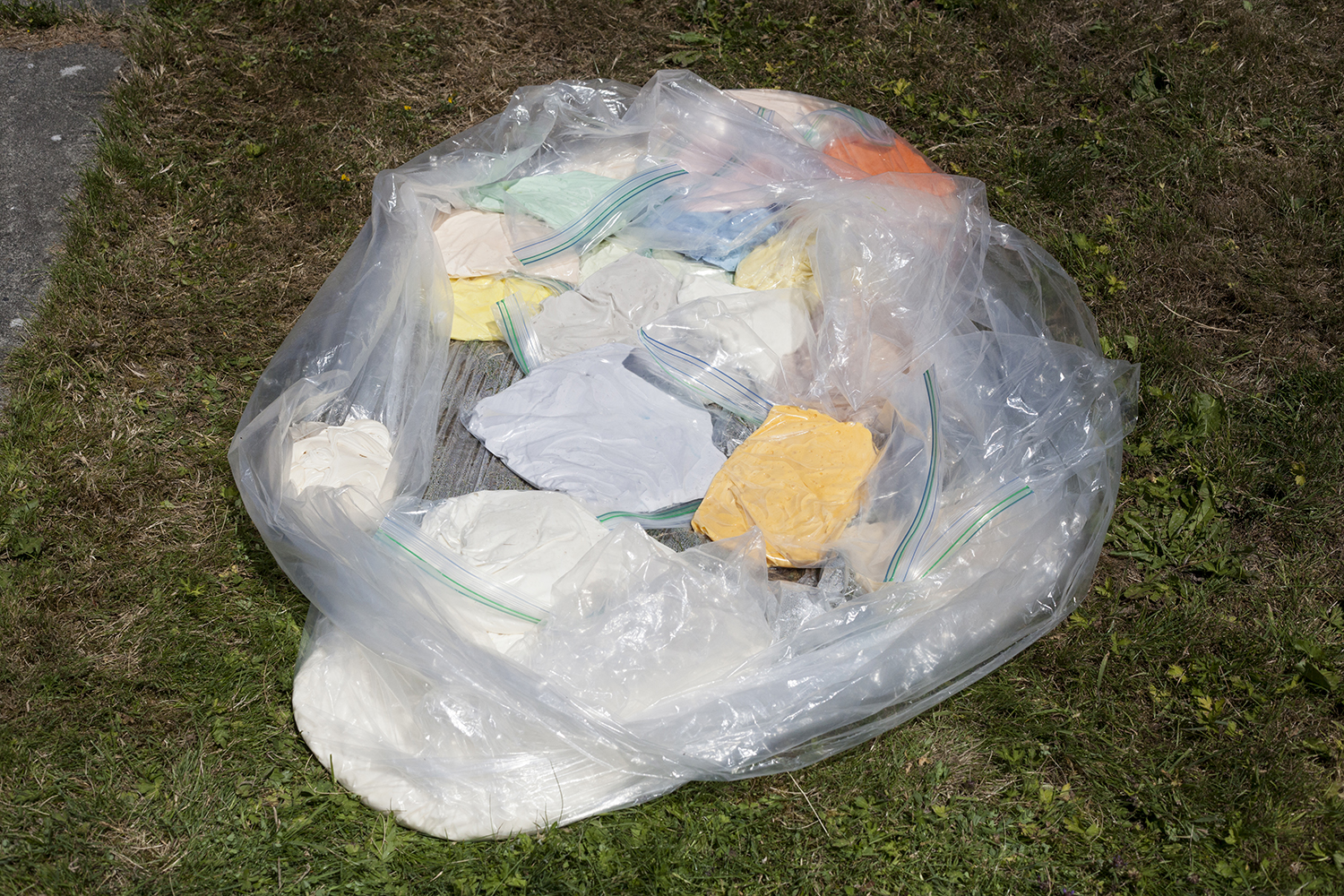 FRANCESCA: We talked about using edible things early on. I like the connection to everyday/mundane life, and bodies, and I also just very much wanted my egg/potato hoard to be part of this… we had talked about that scale– objects that fit into the hand, that are easy to pick up and hold.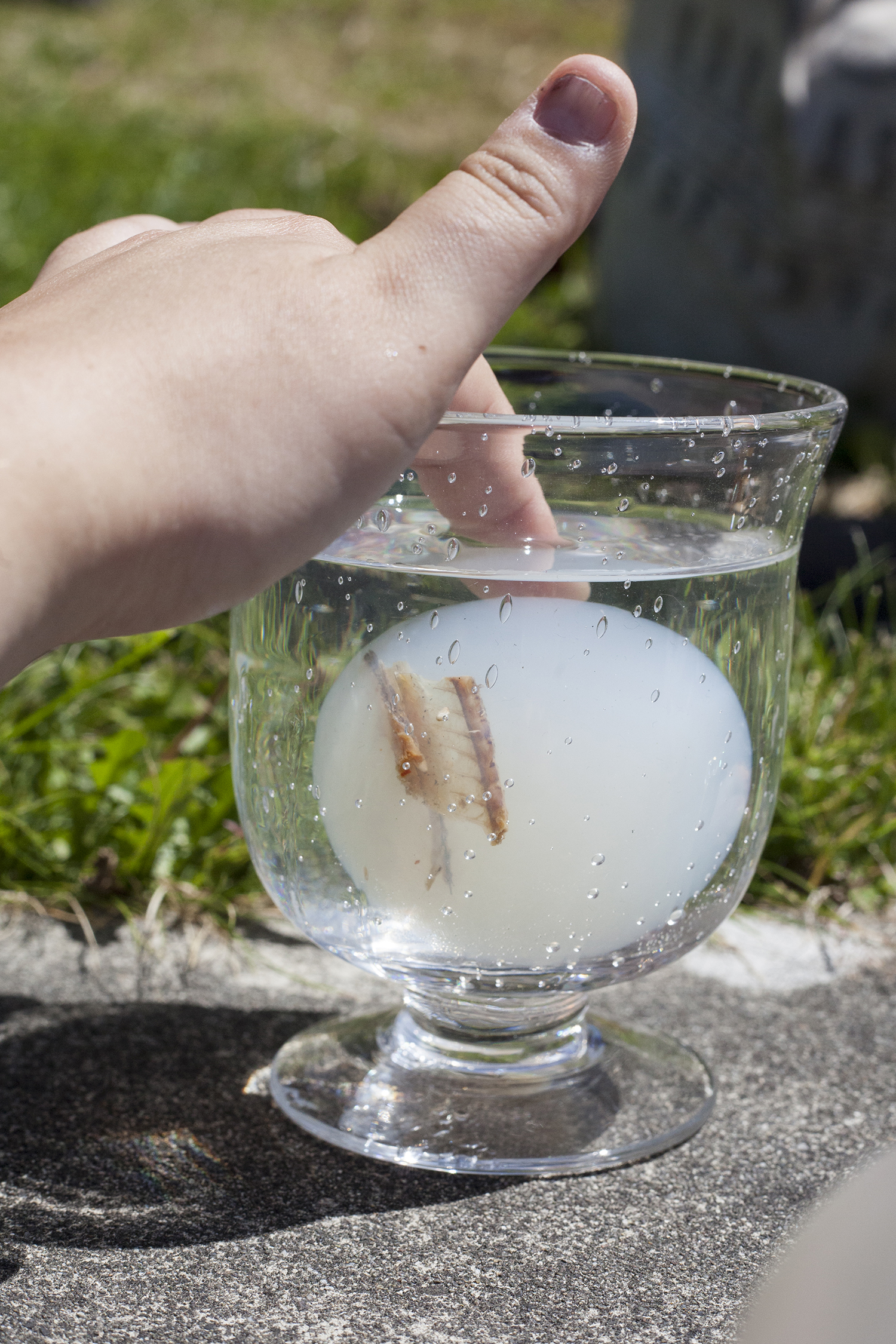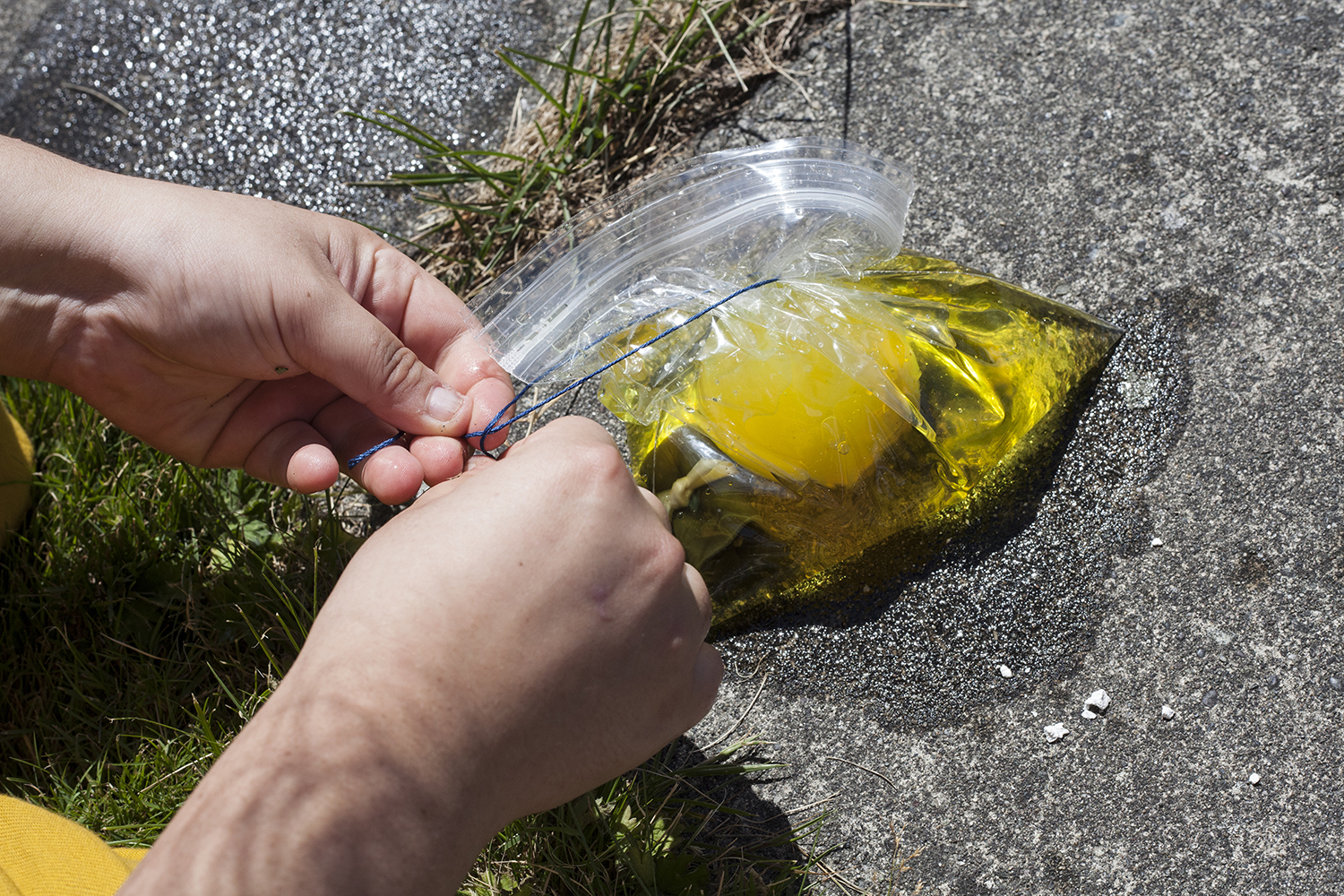 OS: What's your favorite food(s)?
FRANCESCA: I love so many foods, this isn't really a question I can answer. It depends on the weather. I really love pickles and cheese and mayonnaise and sashimi and endives and arugula and rare steaks and soft boiled eggs and olives and oysters and muscles and ginger and and horseradish and celery and potato leek soup and pho and fresh bread with butter and cured meats and kimchi and cold noodle salads and pine nuts and avocados and couscous and olive oil and oatmeal with dates and honey and puddings and custards and raspberries and peaches and pears and sausages and sauerkraut and hamburgers and everything….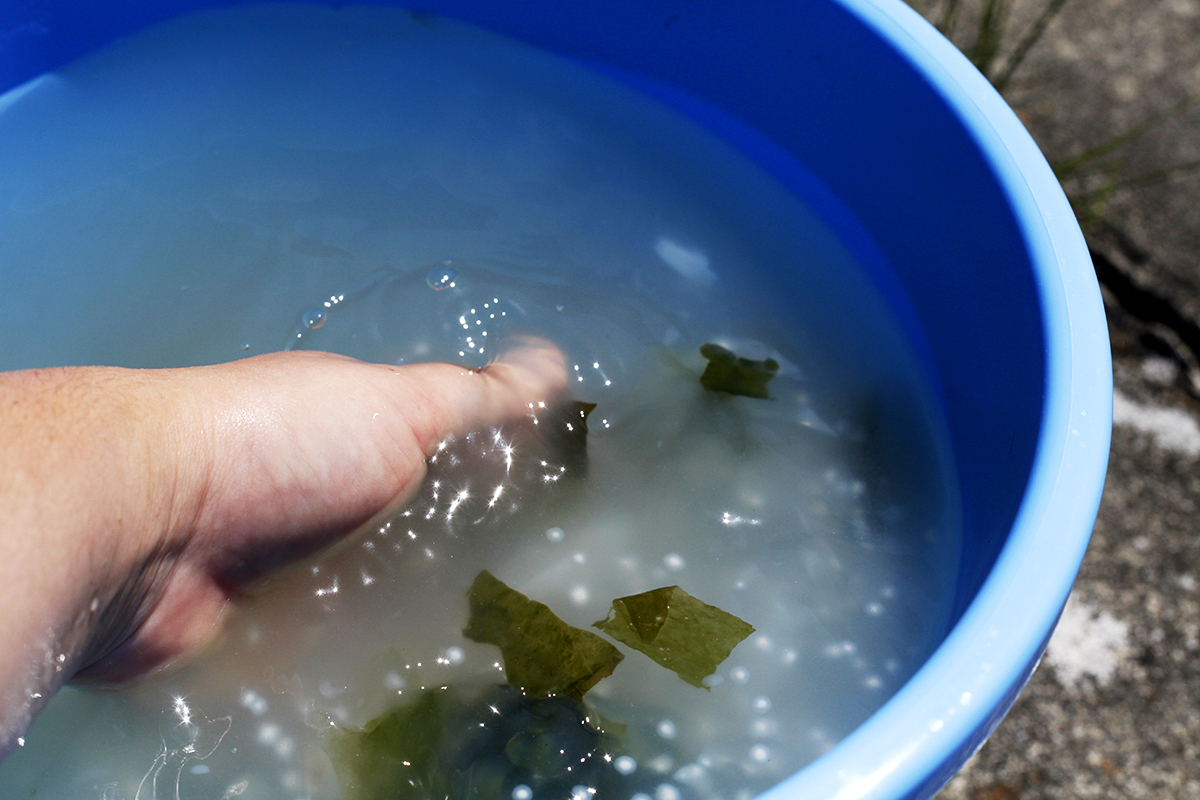 MEL: Ooh, love this question. I'm a moody bean so like Francesca said above it depends on how I'm feeling. This summer I'm liking chawanmushi (steamed savory egg custard, my mom makes it so well and always put a sliver of lemon on top that was my fave), oysters, yakitori, ful for breakfast from Café Selam, fish, snap peas, sage, mochi, dumplings, cold soba, guava, cilantro, pickled anything, onigiri, takoyaki, squid, lemons, passionfruit, lychee, rambutan, peach cobbler, mussels, sesame seeds, grilled shishito peppers, tacos al pastor, mushrooms, salt. Am really feeling some bitter and spicy things for summer, so grilled radicchio, arugula, radishes, eggplant, coffee.
Cold sake, kinpira gobo, and unagi kamameshi from Maneki in Japantown is a good Seattle lifetime meal for me.
Have many flashback memories of being a kiddo eating whole cucumbers and tomatoes under a pea vine trellis from my grandpa's garden sitting in the dirt in Hayward when everyone else was inside. Persimmons from his tree in the winter.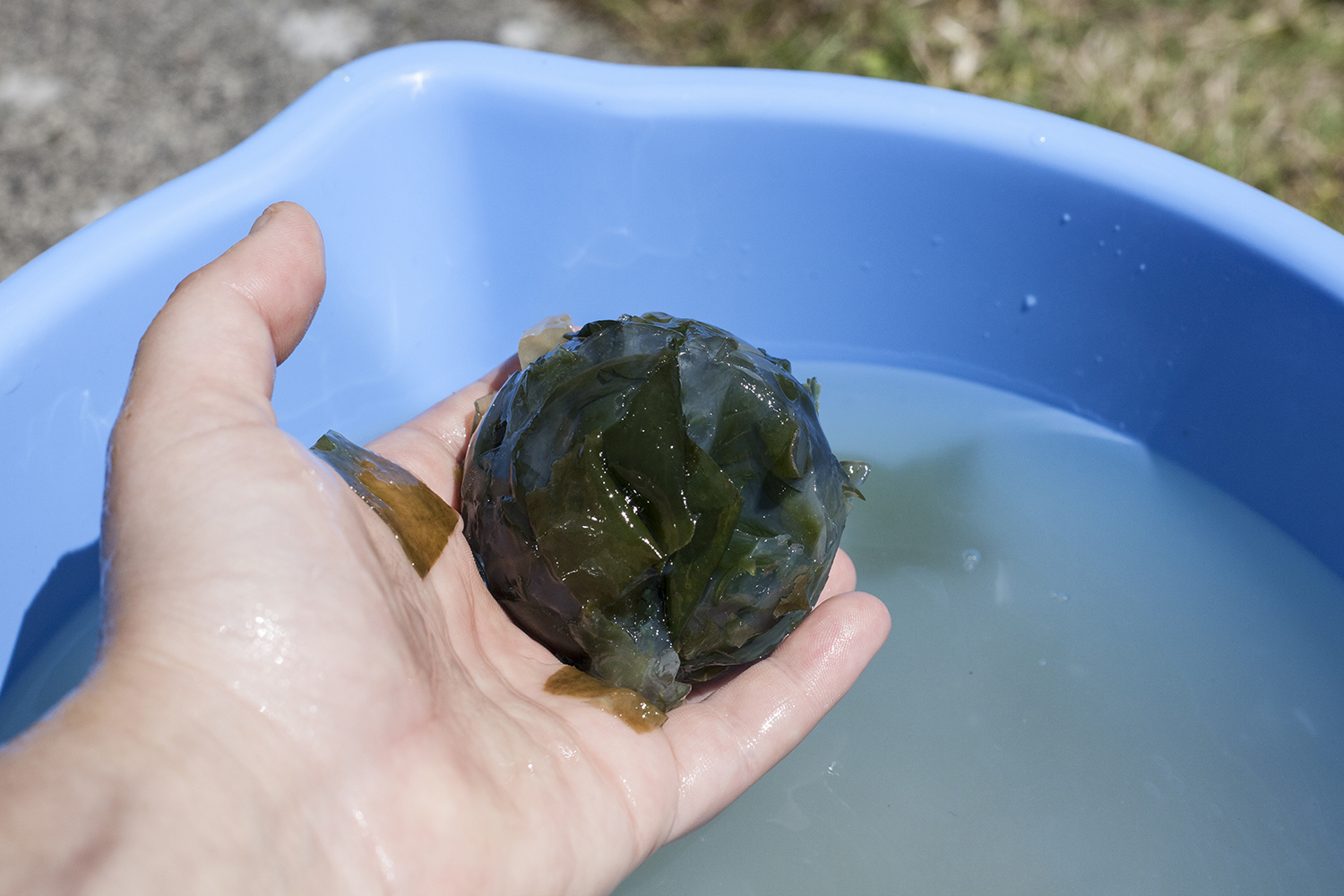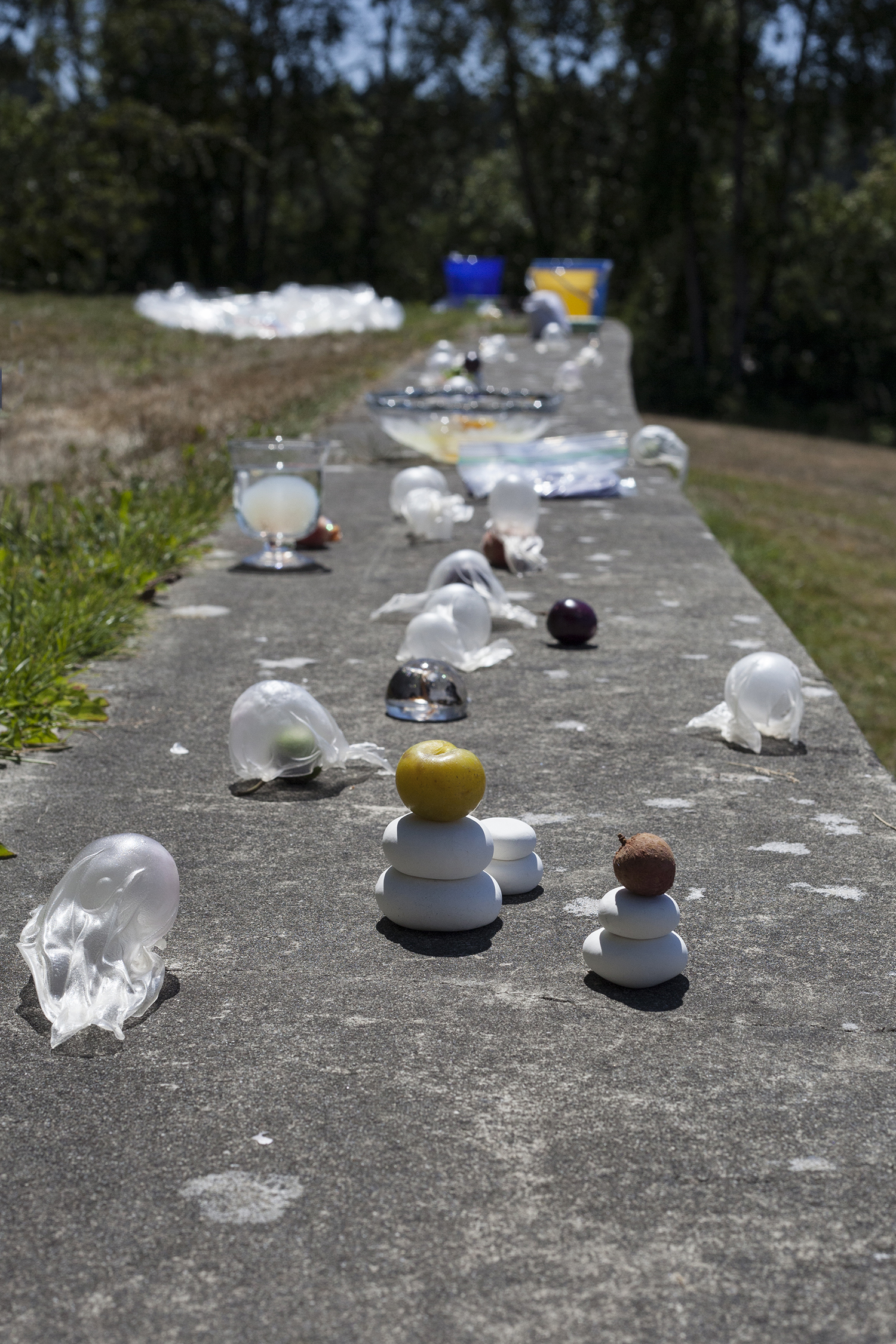 OS
: The bartering aspect to this show was really fun, I loved seeing what people brought and what they decided to take. How did you decide to include bartering as a part of your show and how did it play out compared to what you envisioned?
MEL
:
Definitely was inspired by Francesca's bartering for eggs, and also thinking about how most of the art I have collected has just been gotten from trading art with friends. It was interesting seeing what people brought, some people traded art, poetry, ceramics, sketches, catalogues that were amazing, and some people seemed want to use this as a satellite goodwill donation site ( ? interesting re: the value of our work and time that we took to make the work). Am still thinking about this part of it, could've been the words we used centering around the show, maybe being in $$$ based america we just don't know how to place value.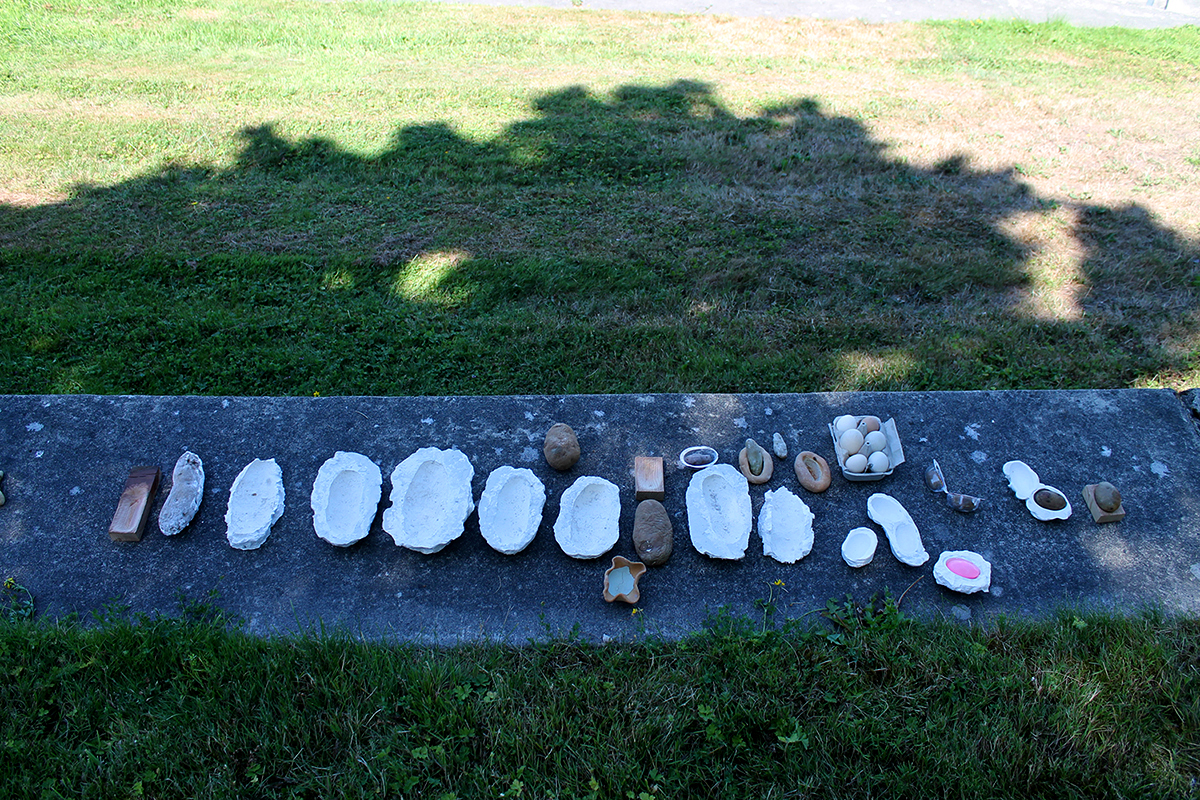 FRANCESCA: I had a really wonderful experience in March, bartering eggs for some flowering branches. It felt like maybe some sort of transfiguration, turning one thing into another thing. I'm still really excited about that. I think I envisioned our event having more back and forth, coming to mutual agreements between individuals. In reality, it was more of a free for all exchange, which was also fun. There were some objects that I was more attached to, that were hard to let go of when for me the thing being offered in exchange did not have reciprocal value. Some people took things without asking. That's okay, it was part of the experience and it's something I'm still thinking about for myself.
Mostly I loved seeing the variety of objects that everyone brought, and the way those accumulated over the afternoon.There were some wonderful surprises.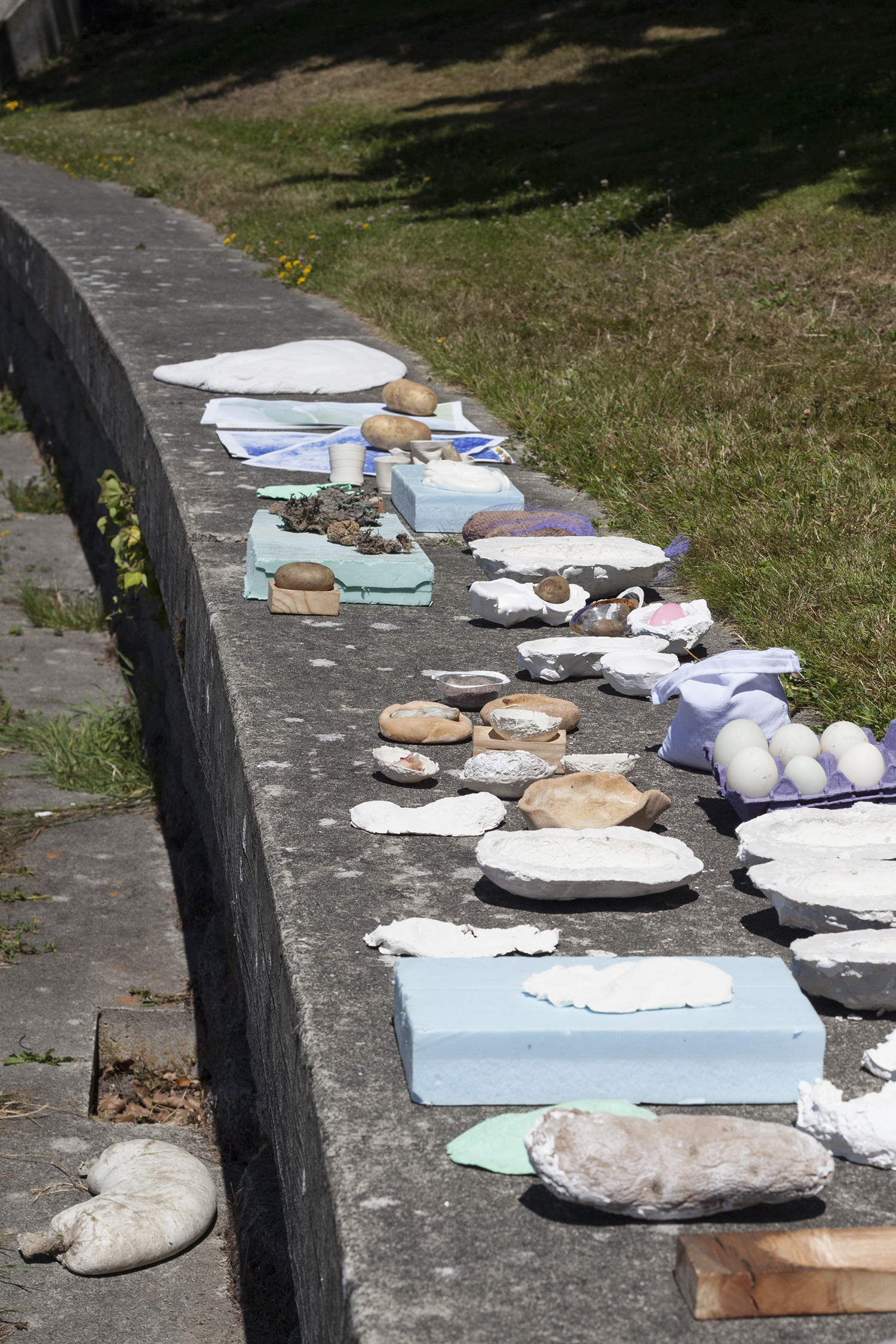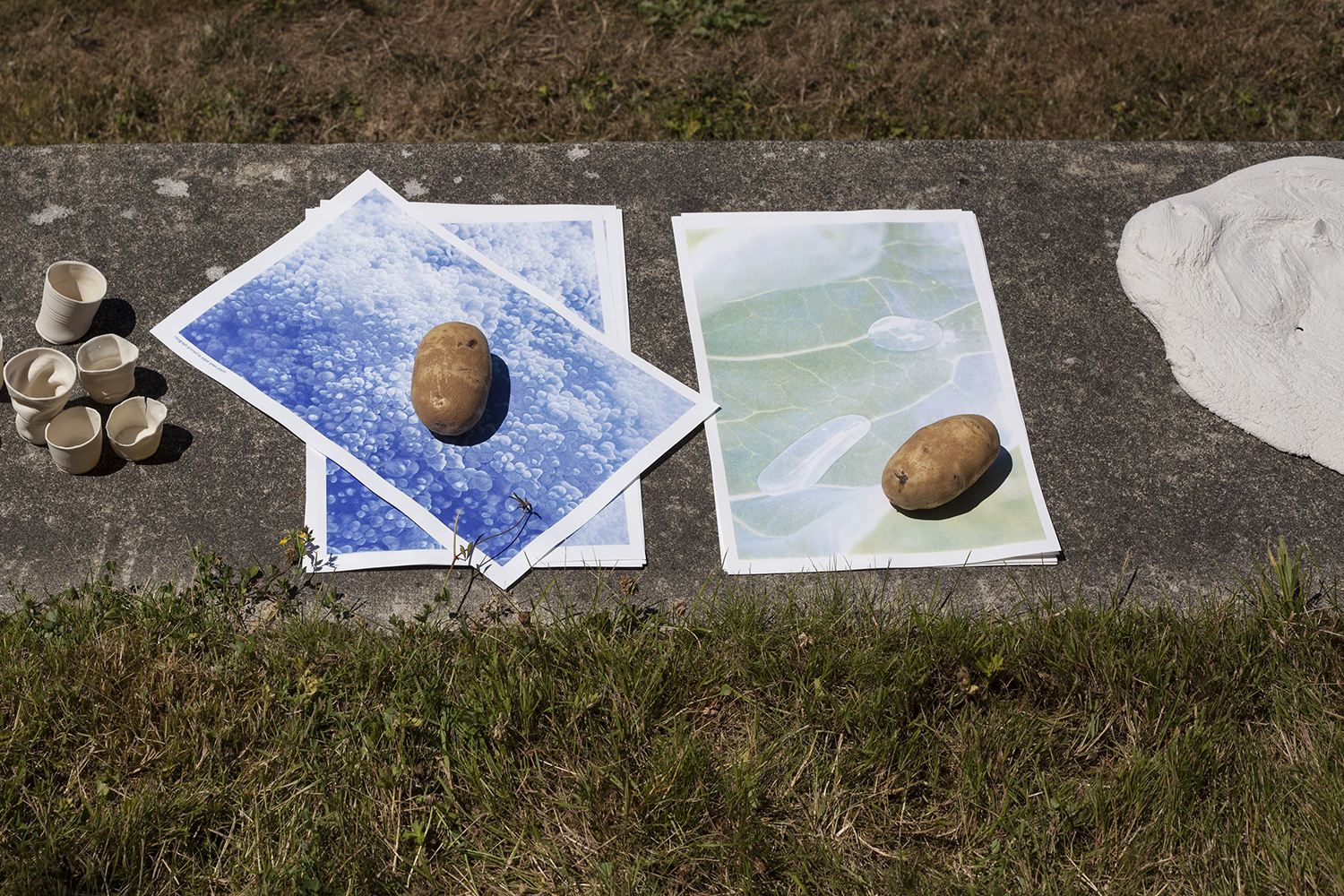 OS: What drew you to MLK Memorial Park as the site for your show??
FRANCESCA:We wanted a space that was public, where something like a bazaar or a picnic would feel at home. That park has all this empty grandeur, with the hill and the stepped walkways…. It makes me think of some place out of time. It's set up like a theatre, but then there's no stage, only a fountain that's never on. And it's almost always empty of people. Mel suggested it, and we visited, and it felt like the right place.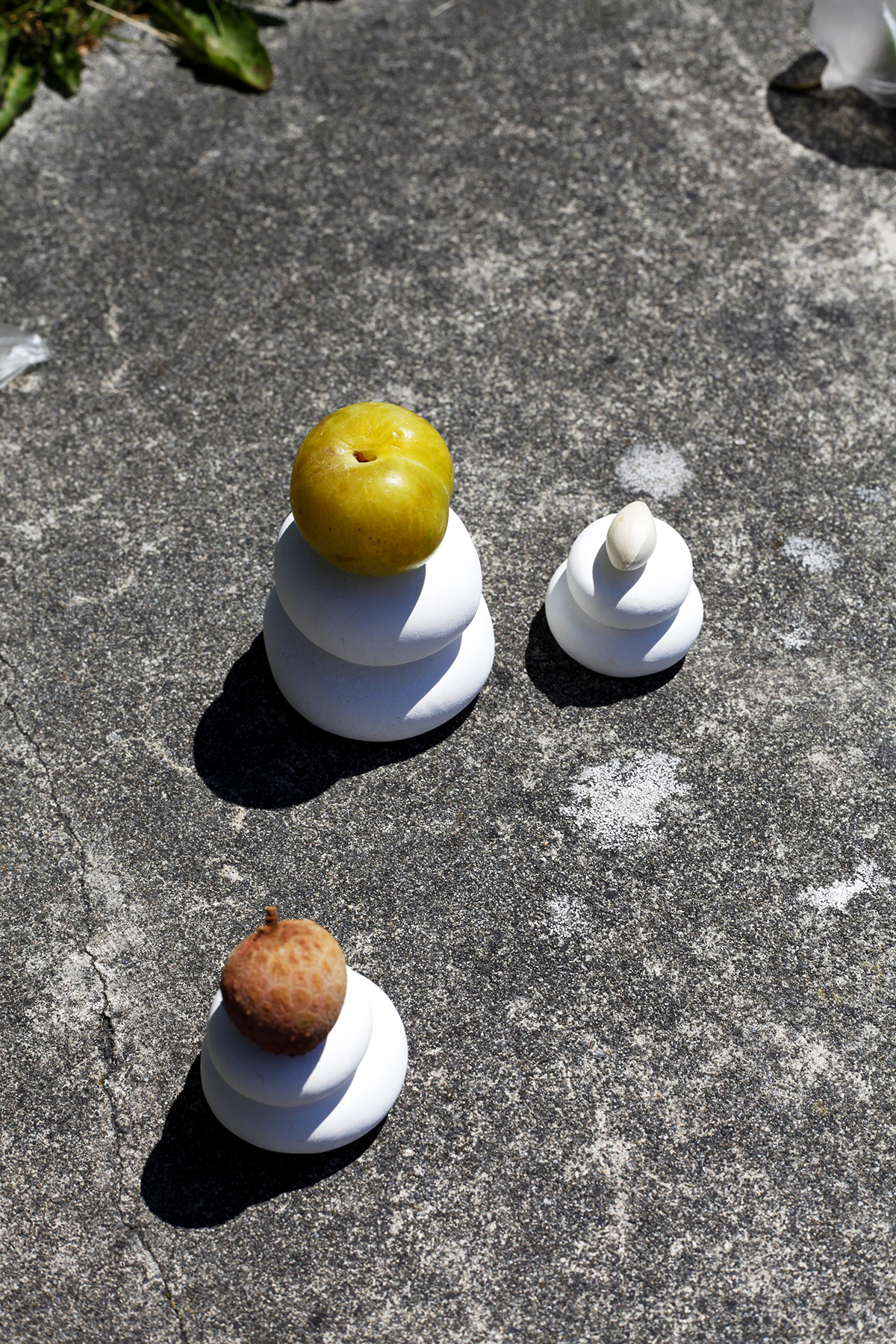 MEL: I used to live nearby this park and it's so beautiful and private and has a great view of the city, but over the years I'd seen maybe two people in it at a time, max. BIZARRE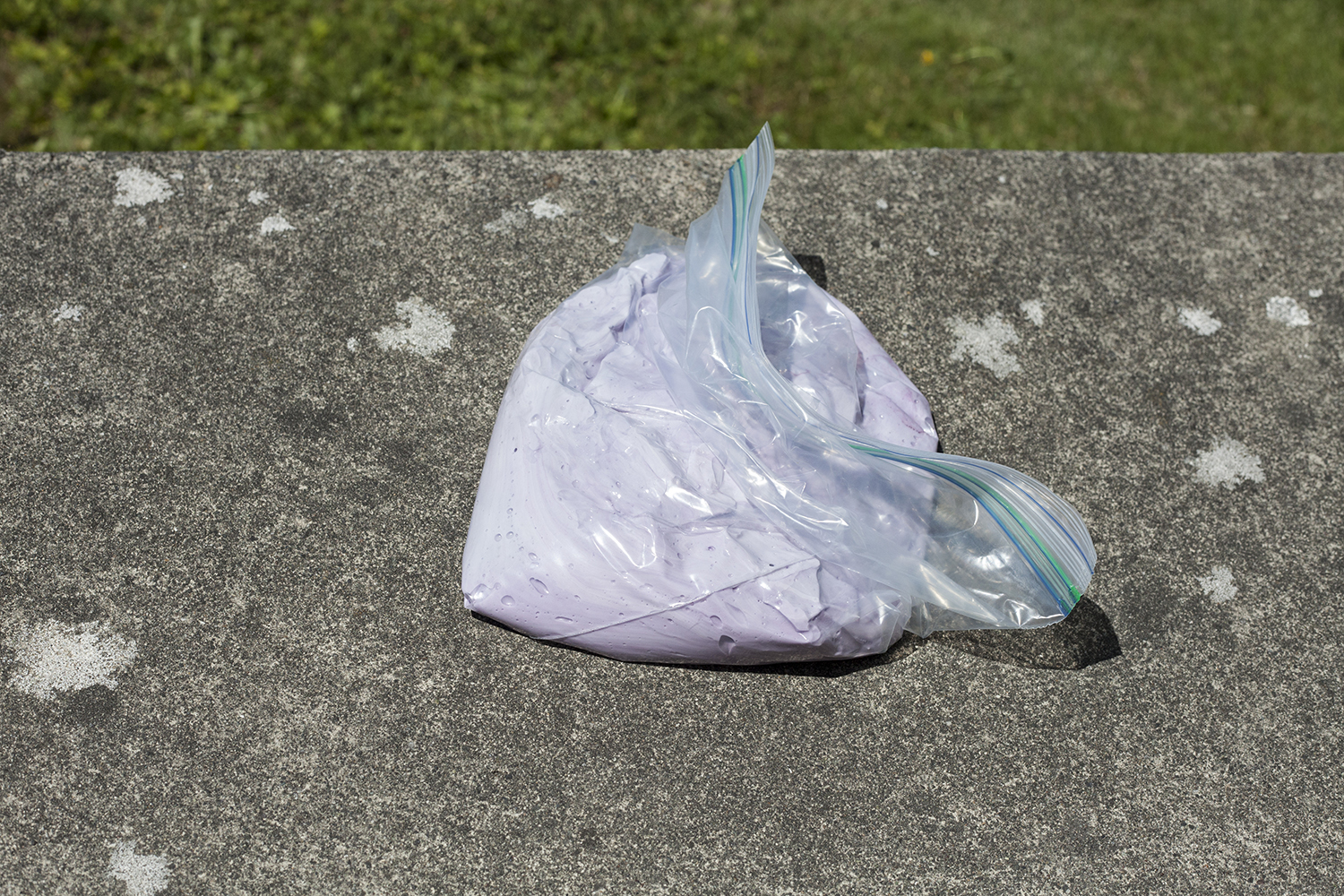 OS: Who/what would you say your biggest influences are and where do you see them showing up in your work?
MEL: Idk about this question. I think being out of undergrad for a few years, this is the time where I'm really finding work I resonate with now and at this particular moment of my life, not just artists I've learned about through school, since academia generally prioritizes classical values and white artists that don't always seem to quite fit my bill. Here are some things/folks/friends/musicians/writers that have been influential on me lately:
The White Pube, Zadie Xa, serpentwithfeet, Sondra Perry, Ernesto Neto, Nikkita Oliver, Hiroshi Sato, Anne Carson, Christopher Paul Jordan's 'COLORED', Dana Michel's 'Yellow Towel' @ OTB, Tabaimo, Lu Yang, Hannah Black, Bob Fosse, Satoshi Kon, Kelsey Lu, Tierra Whack, Juliana Huxtable, The Underground Museum, Nick Cave, Jasmine Infiniti, Steven Universe, Taika Waititi, Rei Kawakubo, Araya Rasdjarmrearnsook, Jeffry Mitchell, Felix Gonzalez-Torres, Wong Kar Wai, Alvin Ailey DT, taiko drummers, 'Black Bois' @ OTB, Masaki Kobayashi, Chiho Aoshima, Alice Waters, Ruth Reichl, Italo Calvino, Mhysa.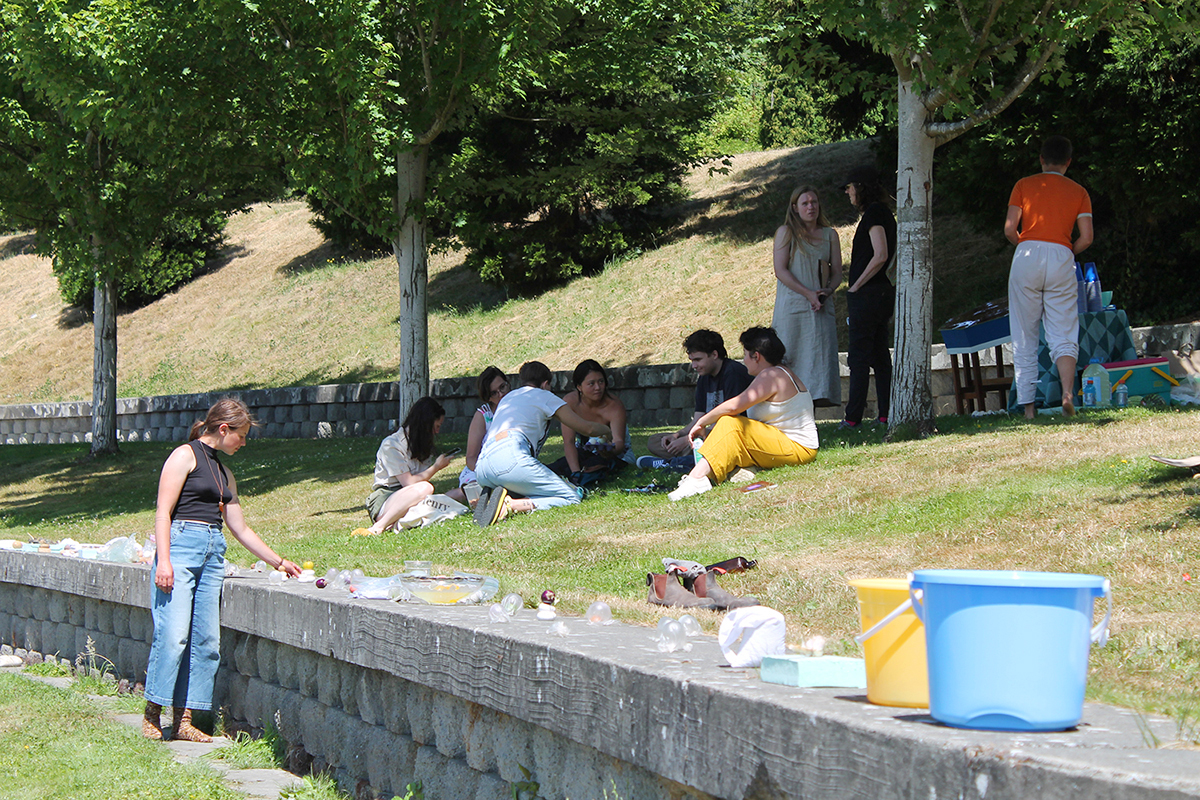 FRANCESCA
: I'm really bad at this question and I don't know if I'm comfortable really answering it in written form. My teachers and my peers have had the most direct influence on me and my work… Too many people to name.
American based artists working in the 60's and 70's have been important to me– Lynda Benglis, Vija Celmins, Paul Thek, Donald Judd, Robert Smithson, etc.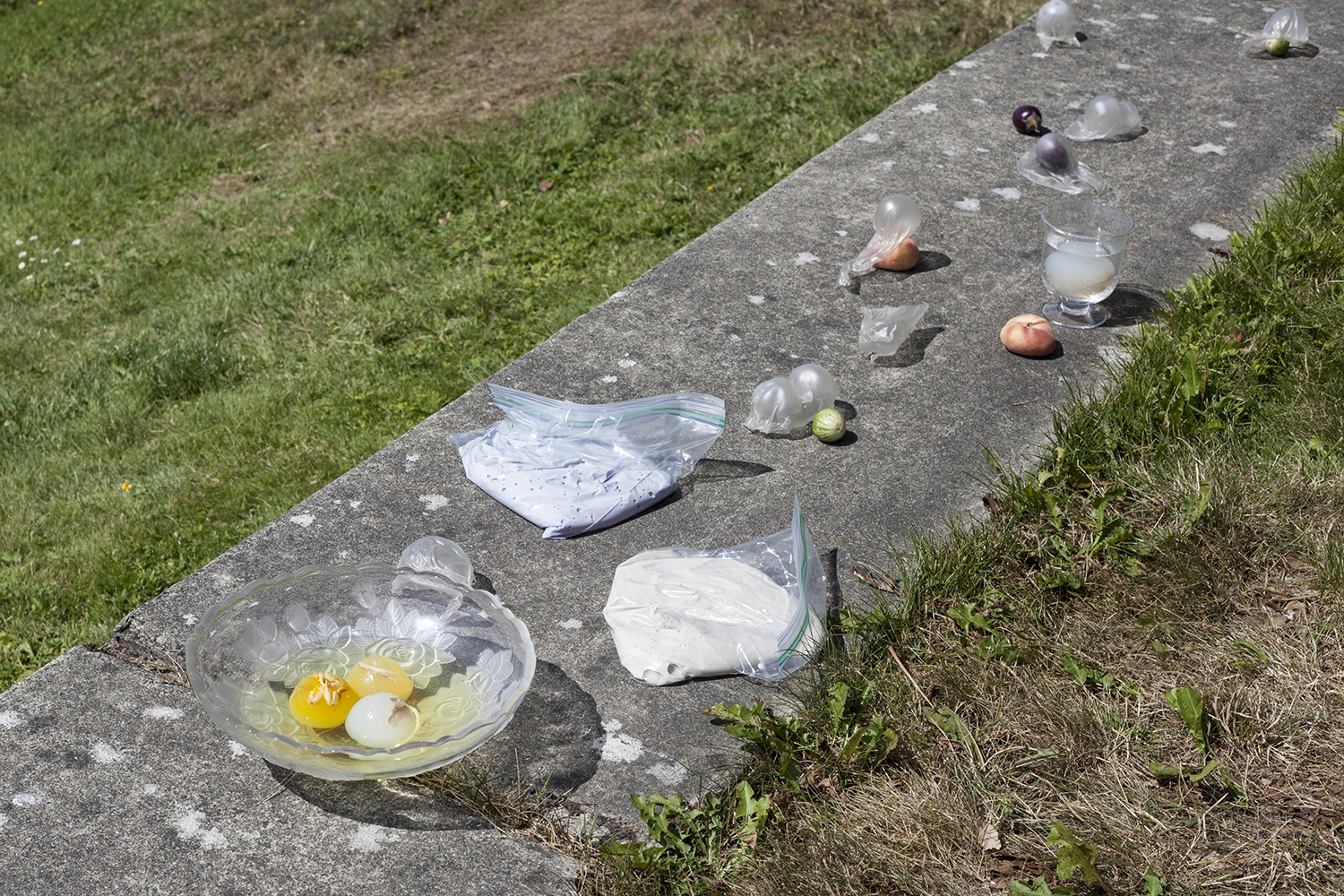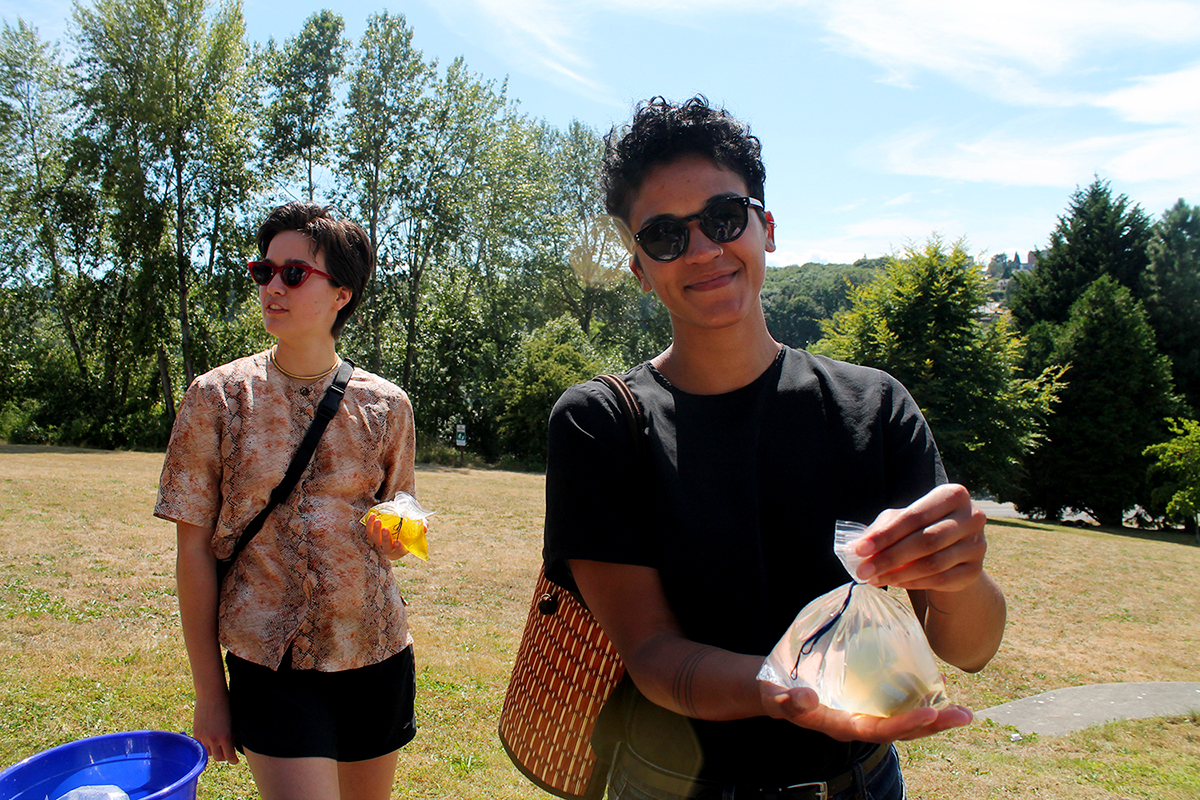 OS. Who/what are your biggest "non-art" influences and where do you see them showing up in your work?
FRANCESCA: I love stories. I listen to and read a lot of science fiction, fantasy, speculative fiction, etc. Ursula K Le Guin is a longtime favorite author and her stories have been a great comfort at many times in my life when I needed that. I like how she writes about being human and mortal and in the world. I think that is maybe part of what my work is trying to feel out.Also some really basic entry level stuff about physics and entropy and thing theory… And my own lived experience of being a body.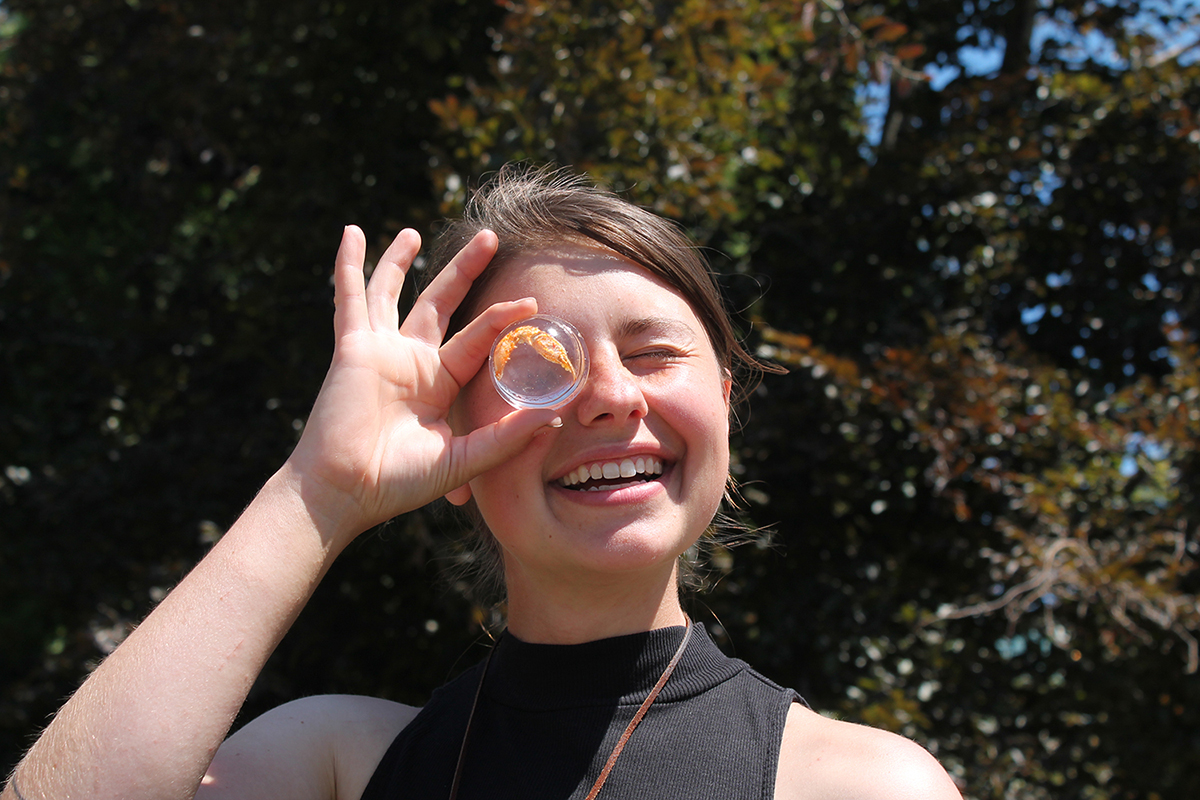 MEL: A lot of the musicians, filmmakers, writers I mentioned above. For sure folktales and fables (something Francesca and I bonded over when discussing this show!), a lot of my visuals come from dreams I have. My family, I think they're the most influential on me, I create little characters or details from memories of them and growing up.
Bodies of water, can't stay away.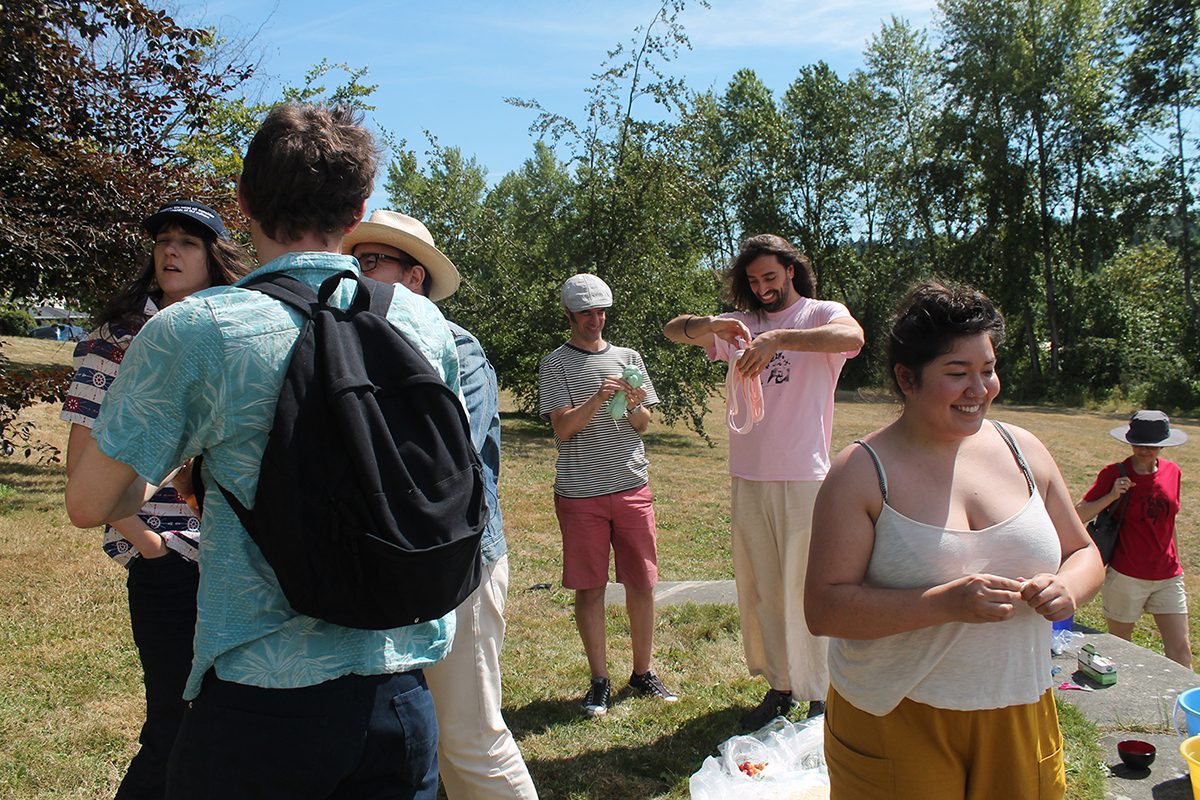 OS: What are you working on right now?
MEL: I've feeling really overwhelmed and more sad than usual this year, and a lot of my projects have come to a close, so I'm happy to have some time to myself to be. I am working on being in the water every second I can until I feel more myself. I want to get back into woodturning, do more sculpture, learn some new things, go somewhere else, cook for folks, read, garden.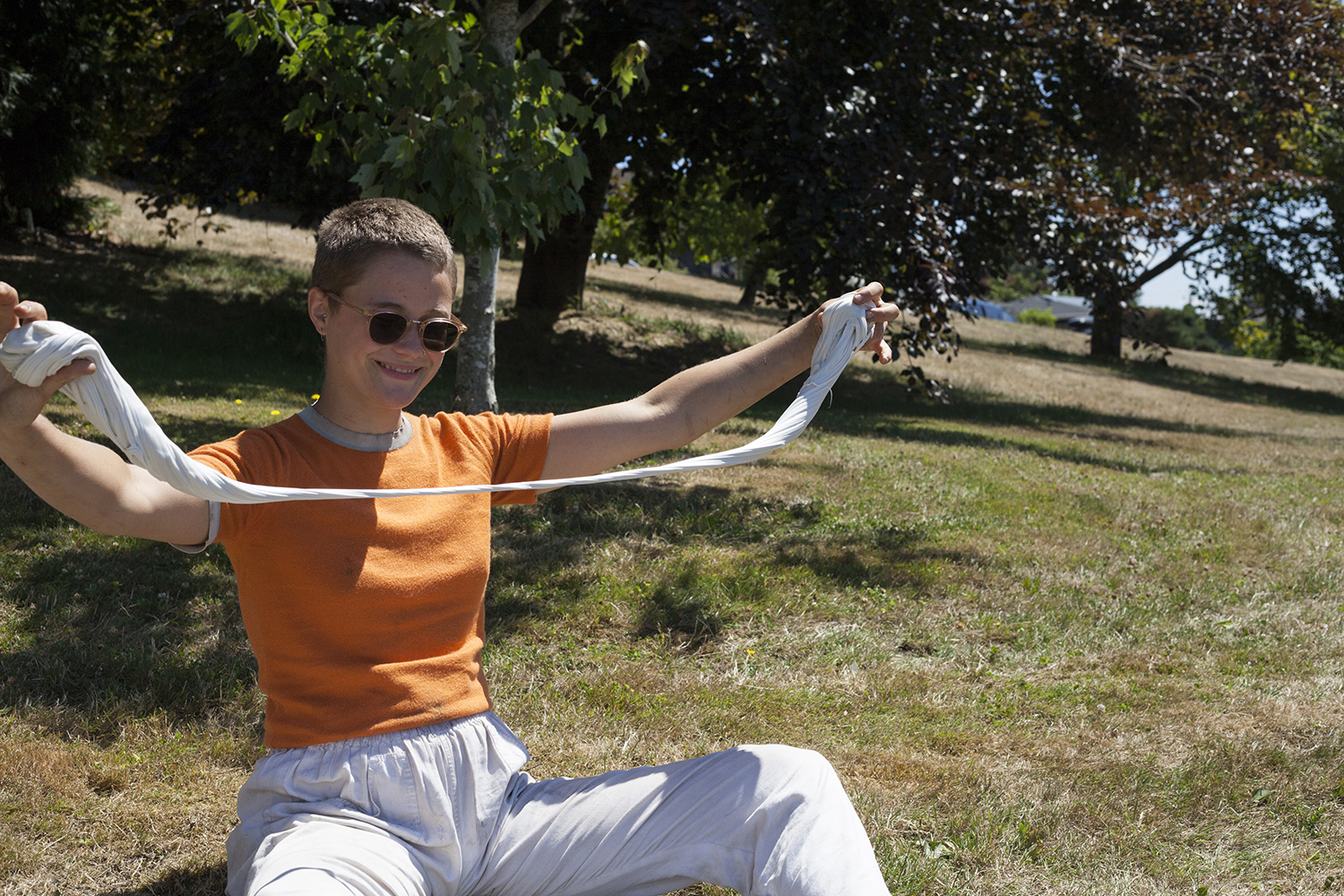 FRANCESCA: I'm getting ready for a one day outdoor taffy installation on August 25th at a farm in Redmond (generously supported by a grant from 4Culture) and am in the early stages of planning for a show in January that will be presented in the back room at Ditch Projects in Springfield, OR. I've also been working on trying to figure out a career that can support my art practice, and have spent the last eight months or so learning to be a florist. It feels a bit like what I always hoped it might be like to be a painter, back before I went to art school and found out I couldn't do it. But with flowers maybe I can. It's weird and so far I love it.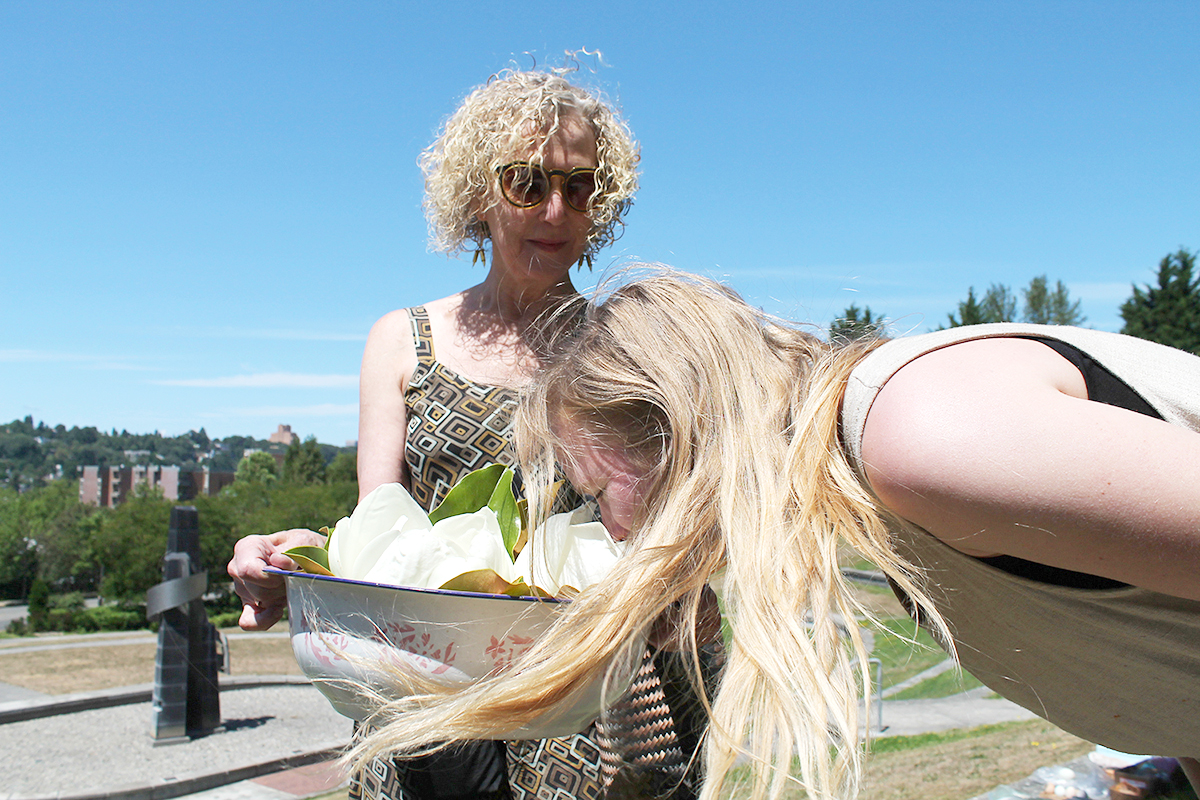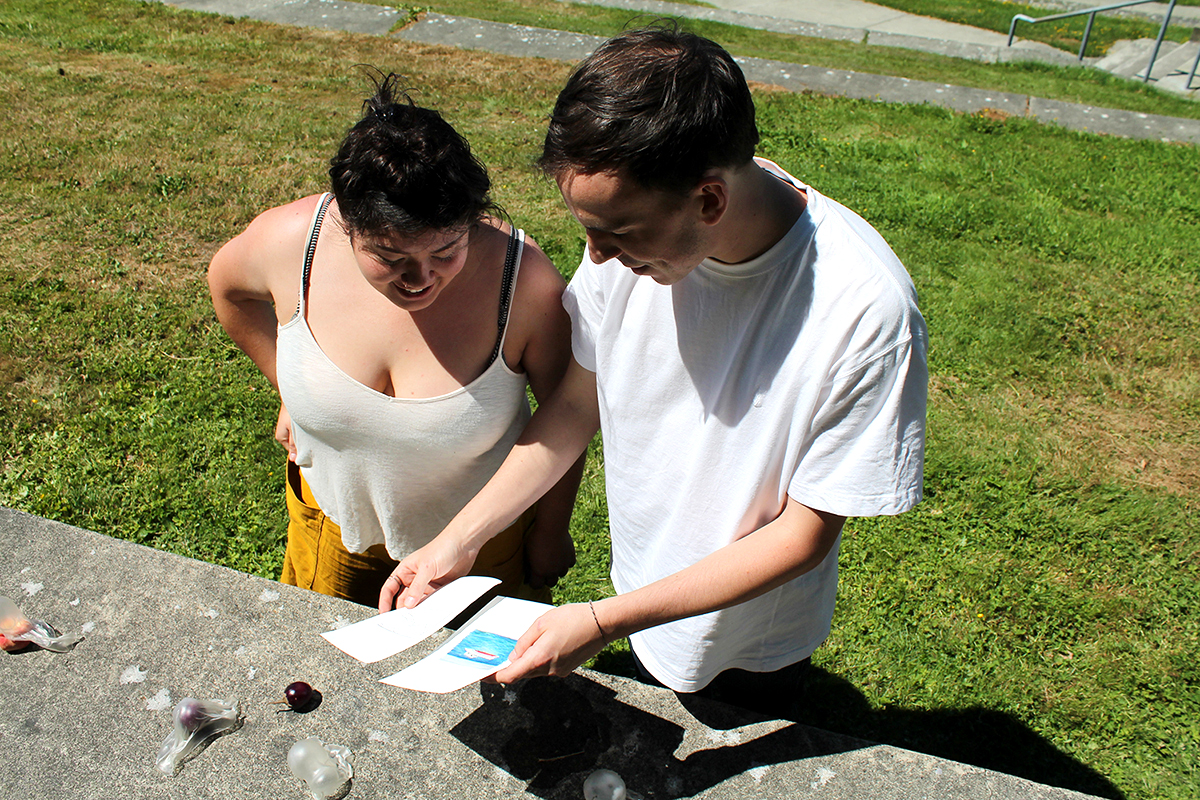 OS: Thank you so so so so much, I loved your piece so much! Any last parting words or thoughts?
FRANCESCA: Thank you!!!!! This was such a joy to be part of.
MEL: Thanks so much Forresttttt, both you and Francesca have been so lovely to work with, it's really been a pleasure. <3