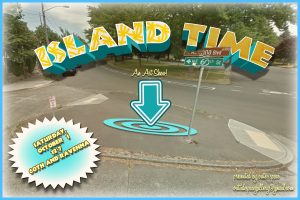 Outer Space presents:
Island Time
by Forrest Perrine
October 1, 2016
Traffic island on NE Ravenna and NE 60th
Island Time was Outer Space's inaugural show, taking place October 1, 2016 on a traffic island in North Seattle. For the installation, Forrest Perrine brought in 800lbs of sand to create a makeshift island complete with a tarp shoreline, drift wood, beach grass, and 24 sculptures buried inside of the island for attendants to dig for and take home, as seen below with the people who found them. The sand was raked in between visits.